Artsy iOS
Artsy • 2019 – 2021
Completely overhauled the iOS navigation, core pages, design system, and tech stack from the ground up as Artsy pivoted towards a mobile-first strategy.
Background

In 2019, Artsy made a strategic decision to prioritize and position the iOS app as the primary platform for collectors to buy and sell art. This was based on internal data that showed the app was becoming a larger source of commercial inquiries than desktop and bringing in a larger share of total GMV. At the time, the App had not had any significant feature updates since 2017 and was largely built in legacy code.

Approach

To align with our company's strategic shift, we formed a new cross-functional team focused on bringing the app to parity with Web, while improving the user experience and rebuilding the tech stack. Over the next year and a half, our team set the strategic vision to expand iOS and Android, lead the charge for many new features, and created new guidelines and infrastructure for other teams to build in the app.

---
Our team coordinated the app's feature development for five other product teams by setting the design for a near-term plan that connected with a longer term strategic vision. Based on the user research and our product strategy, I re-organized and outlined the content and structure for the five tabs in the bottom navigation. Our goal was to create simpler pathways that focused on core user journeys: finding the most relevant content, accessing time-sensitive actions, and managing a collector's online persona.
Near-Term Plan


Long-Term Thinking


---
Home
The previous home page had three tabs ("Artists I Follow," "For You," and "Auctions") that had different types of content with varying levels of engagement. After looking at the usage data for all the content rails, we collapsed these three tabs into one page and reorganized the more engaging content towards the top. We refreshed the design of entity-level components with an artwork-first approach that resonated much stronger with users in our research. In later iterations, we also added immersive content types like editorial articles and viewing rooms for a curated art world experience.

Search & Explore
We transformed the previous search experience from a modal into a core page, with the goal of creating a dedicated space for discovering more content in the Artsy ecosystem that we could expand over time. We also collapsed an older navigation tab with less usage ("City Guide") into this page, added Recent Searches, and cleaned up the search results page.

Profile
The profile tab was a new page that was designed based on feedback that users had no way to control their account settings in the app. We set up this foundation as a basic structure to access near-term controls with the goal of adding more user-specific features on our roadmap, like Collector Profile and saved searches, in the future.

---
Mobile Components
A large portion of rebuilding the iOS app was translating a lot of our existing design system components on web into mobile-specific components. For artwork tiles, a core e-commerce element, we tried to optimize proportions for immersive imagery with information density at different stages in a collector's journey. We also introduced many new native elements like navigation controls, half-page modals, and entity cards. Below are a few examples pulled from our updated Palette design system.


Motion Guidelines
When designing for new iOS features, we also saw the opportunity to leverage native motion and haptic functionalities throughout the app. Motion in the Artsy iOS App would help establish information hierarchy, express the brand, provide feedback signals, and guide users through the experience.

In order to design a holistic and consistent experience, I created motion guidelines outlining how and when to use motion for specific transitions, elements, and content types. I also defined base variables for duration, easing, fading, transformations, and sequencing that aligned with our brand's personality. Below are a few examples pulled from our guidelines for sequencing loading and new incoming elements.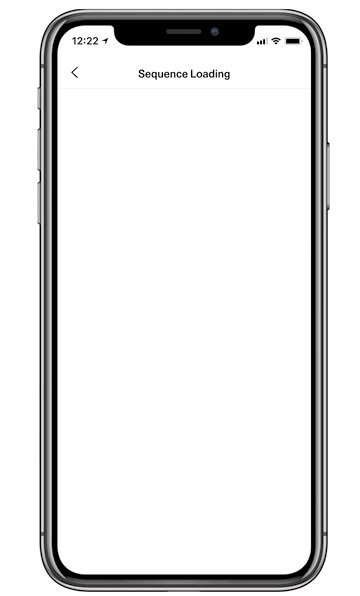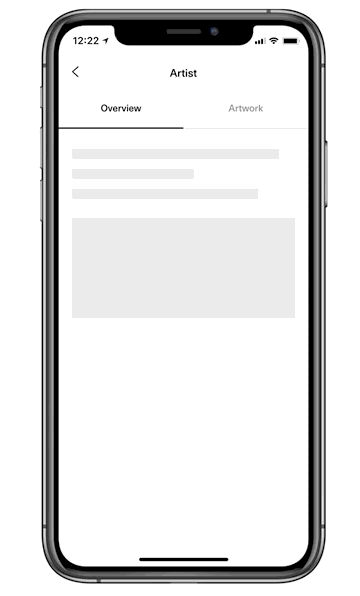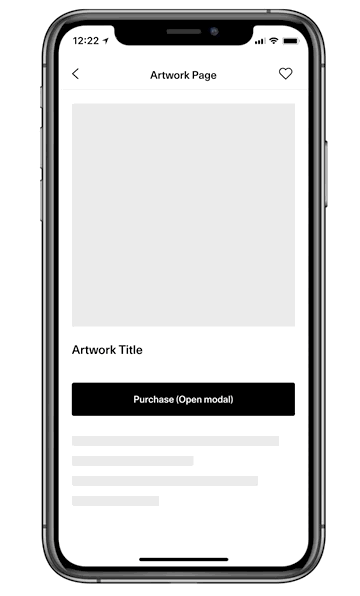 ---
While the iOS App was a strong product in 2017, due to out-of-date features and bugs, our App Store rating was at a 3.8 when we first picked up this project. Over the next year and half, we were able to completely transform the overall app experience—including its navigational structure, core pages, design system, tech stack, and product positioning—steadily increasing our rating to a 4.7 today. We set up a two-week shipping cadence for releases, built brand new app-only features, and are excited to release on Android in Q2 of this year. The next steps for our team is focusing on strengthening the app's features and pricing data, continuing to push the user experience, and making the app the indispensable tool for collectors to strategically buy and sell art.
---