Open Studio Book
With the launch of WeWork's new sales centers, Open Studio, we created a takeaway photography book that would illustrate the design and essence of our spaces to potential new members.
---
Storytelling
We started by outlining the contents of the book. We knew our story wasn't about amenities or square footage, but how WeWork integrates interior design with workplace strategy to give spaces a clear purpose and function. We defined three main sections: "Space to Connect," "Space to Focus," and "Space to Refresh." Each category showed how different spaces like a common area, private office, or wellness room facilitated better environments for connection, focus, and creativity, respectively.

In order to achieve this idea, we paired aspirational photography (lifestyle and wide-shot interiors) with practical copy about our features and benefits. We also arranged the book to mirror the order in which someone would walk-in to experience a WeWork location in person.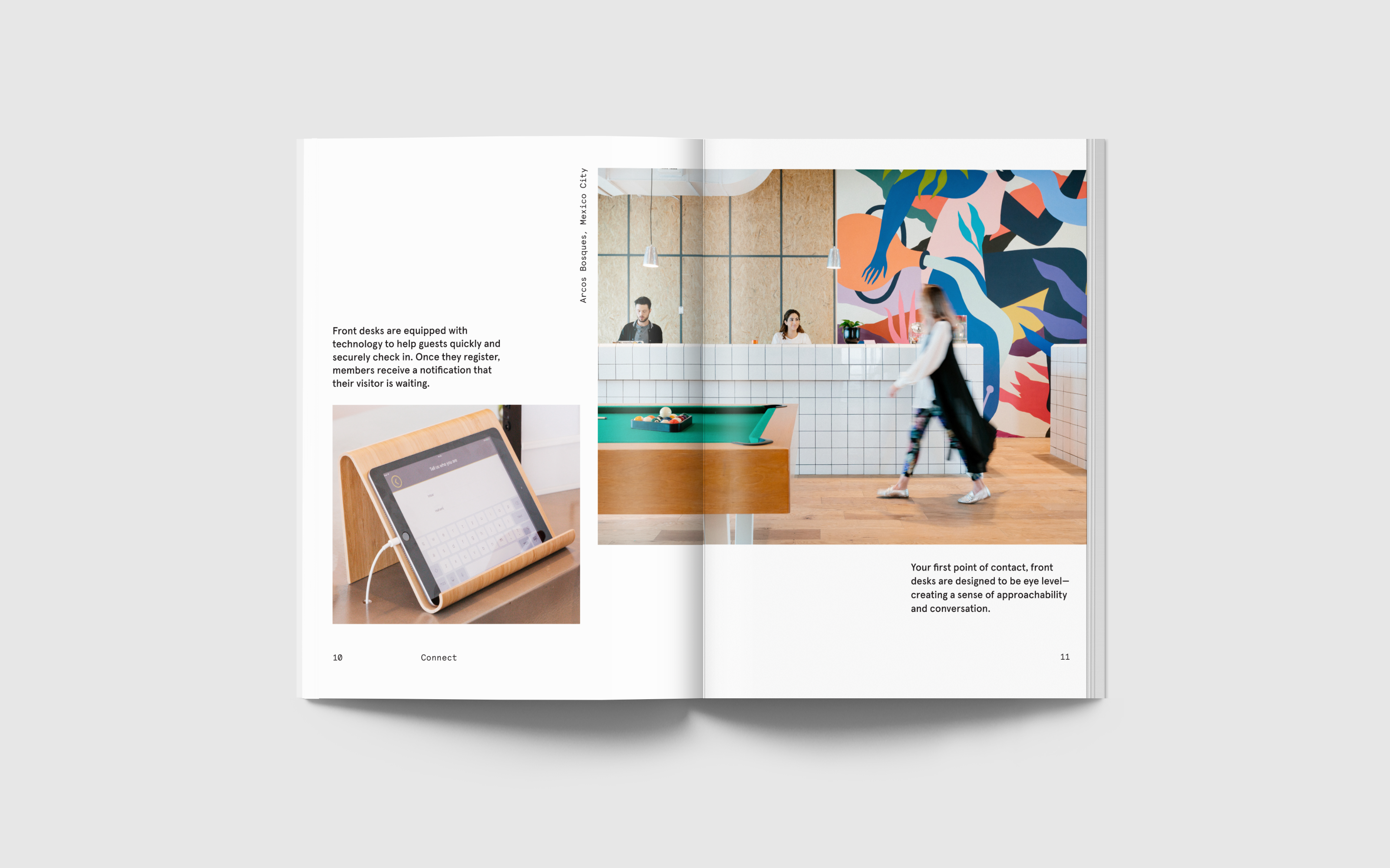 ---
Photography
While we had a lot of photos to choose from, we noticed that many of the photos in our library didn't have the style or content we were looking for. In order to make sure the book felt visually consistent, we defined new photography guidelines for our brand.

To supplement our existing photography with the book's timeline, we also hired a freelance photographer to shoot what we needed based on our content outline.
Challenges
︎︎︎ Photography Style Variations
The bulk of our older interior photography was shot by an outside agency, and there was a large variability in colors, angles, and content.
︎︎︎ Demographic and Vibe

In earlier days at WeWork, our photography captured a more start-up vibe. Members were younger, dressed more casual, and were usually white Americans. As we shifted our marketing focus to global markets and enterprise companies, the photography became outdated.
︎︎︎ Interior Design Changes

In late 2017, we started changing our interior design aesthetic to a brighter, more modern style. Since many of these new buildings were still under construction, we didn't have a ton of photography that showed our new style in our library yet.
Solutions
︎︎︎ New Photography Guidelines
In general, we went with shooting straight-on with natural light. We also wanted our photos to feel less busy, which meant trying to shoot spaces that had more physical structure and during times when there were less members around (early mornings or weekends).
︎︎︎ Enterprise Spaces and Casting
Enterprise offices, a new product, showed new variability in the vibe of our spaces. However, due to confidentiality agreements, we often had to use casting to fill the spaces. We used this as an opportunity to show the global diversity of our members.
︎︎︎ Capturing Design Details

Not only did we need photography of our newer spaces, we also wanted to show the details: highlighting local quirks, the best neons and in-house artwork, a few throwbacks of our original aesthetic, and where our style was moving to.
---
Process &
Roll-out
Although this was a print asset, we intentionally took an agile sprint-based approach. We knew WeWork's design, photography, and features would evolve over time, so this book needed to be a living document that could be easily updated and improved.

After we finalized the MVP version, we created a set of guidelines to roll out globally with the working file. This was particularly necessary to regional teams who had to translate copy and adjust photography to better reflect their demographic members.
---